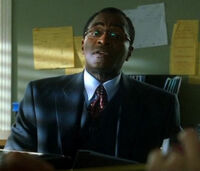 Richard Zachary was an alias used by Marcus Dixon on a mission in Paris. Sydney Bristow - under the alias Amanda Peterson - went to Paris with the intention of getting arrested so she could break into the French police's evidence archives and steal the Decoder key for the Blackwell Index. Dixon arrived as her council from the American Embassy, Richard Zachary. Dixon shot the guard with a tranquilizer and gave Sydney the CD burner to get the decoder key (A Man Of His Word).
Ad blocker interference detected!
Wikia is a free-to-use site that makes money from advertising. We have a modified experience for viewers using ad blockers

Wikia is not accessible if you've made further modifications. Remove the custom ad blocker rule(s) and the page will load as expected.